Health risks of toxic 'forever chemicals' are concerning, emerging
Lt. Col. Craig Minor had been watching the news with his family a few years ago when he first learned of PFAS. His ears perked up when he heard the former Wurtsmith Airforce Base in Oscoda listed as a site of contamination.
He had been stationed at the base, at a time when AFFF fire fighting foam, full of PFAS, was likely being dumped on the ground.
Minor says at that moment, it all started to make sense. The mysterious illnesses: his unidentifiable prostate issues, enlarged liver and spleen, low-functioning kidneys, elevated blood pressure - and his son's severe cerebral palsy.
"We were shocked, but immediately, when I heard it, I sensed in the spirit it was true and started researching it," Minor said.
Since learning of his exposure to PFAS, he's reached out to veterans and officials from the Department of Defense, warning of a crisis.
Minor calls the contamination on military bases like Wurtsmith, Cold War "battlefield wounds." He likens it to Agent Orange in Vietnam or the burn pits in Iraq.
He said this potentially widespread poisoning has gone unrecognized.
An air force official said in February at a Wurtsmith update meeting, the air force's responsibility at Wurtsmith is to focus on clean up efforts. Health, she said, is the responsibility of other agencies.
"The color of money with work is clean up money, not health," she said. "We depend on [the Agency for Toxic Substances and Disease Registry and the Department of Health and Human Services] to provide health."
Minor said the DOD hides behind other agencies, and it has to take the lead.
"Triage your own battlefield," he said. "This is not something where you can keep kicking the can down the road, and finally some day, you say, 'oh my god, you were right' and look around and there's only two people left."
Today, Minor makes himself available to veterans and servicemembers, who may have been exposed to PFAS and who are reckoning with health issues. He also advocates for the DOD to acknowledge contamination on military sites and add PFAS exposure to the VA's Presumptive List.
"[The DOD] has all the health records and they know all the people who were there," Minor said. "They could do an epidemiological study. The problem is, they're the very perpetrators - the very poisoners - they would implicate themselves and be responsible."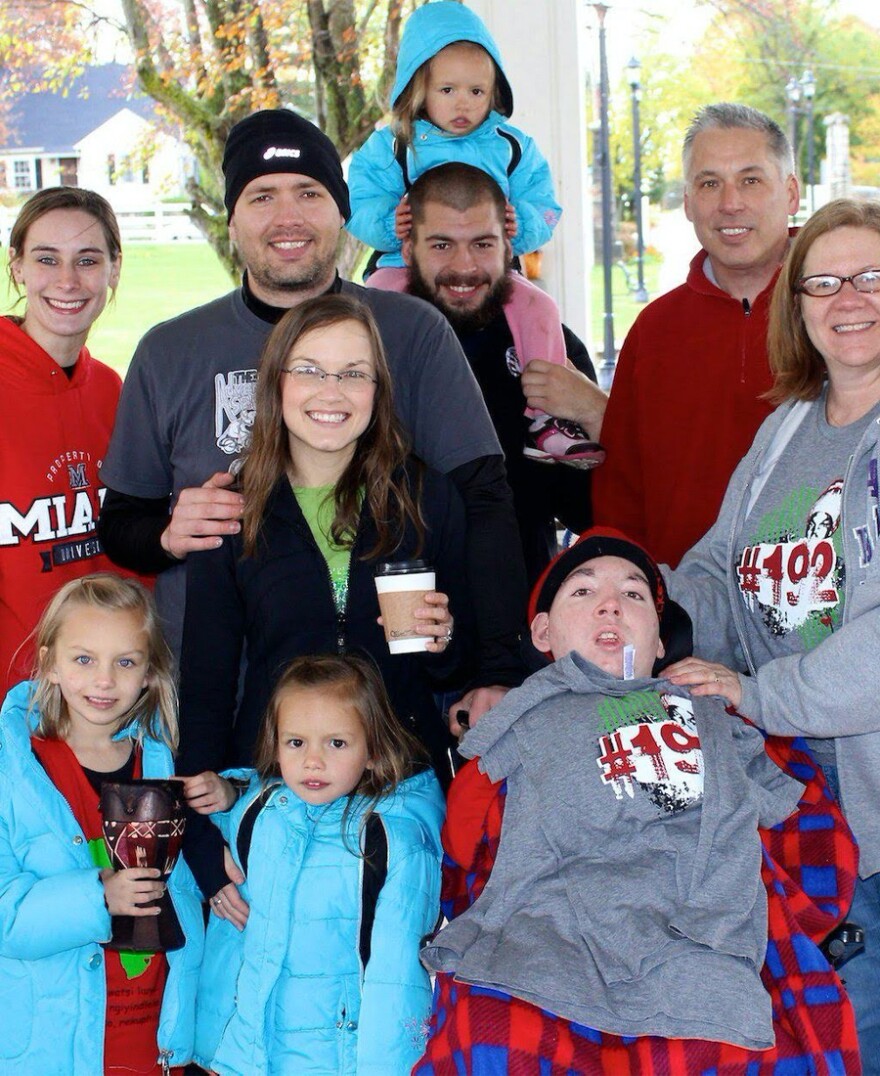 PFAS exposure is associated with increased risk of certain cancers, developmental effects in children, decreased fertility, and weakened immune systems.
There are over 5,000 different PFAS compounds, each one with different effects on the human body and different levels of toxicity.
Brad Upham is an environmental health professor at Michigan State University. He studies how PFAS affect cell communication and looks at factors that may counteract the chemicals' toxicity.
"Treating PFAS like one chemical is overly simplistic," Upham said.
Upham said it's difficult - legally and scientifically - to connect PFAS exposure with specific illnesses. There are lots of factors, like a person's overall health, to account for. Not to mention, we still don't understand the mechanisms of how many PFAS compounds harm people at the cellular level. Without this additional information, data is often correlational.
"We do know these chemicals can cause harm, but how do you prove it's that chemical and not that something else did that?" he said.
Upham said the big challenge for toxicologists is securing the funding to answer all the questions like: how different PFAS interact with human cells, how different types of exposure affect people, and how to reduce the health risks.
The EPA released new health advisories for four PFAS compounds this June: PFOA, PFOS, PFBS, and GenX chemicals. The drastically low advisories indicate that virtually no level of PFAS are safe in drinking water. The state of Michigan also has standards for seven PFAS compounds, including low levels for the main constituents in the legacy firefighter foam from the Wurtsmith Airforce Base.
"We knew this was a real issue in the 90s, but just recently, it's become a public concern," Upham said. "I don't know why we've had such a delay in addressing the severity of these things."
Lt. Col. Craig Minor has some ideas behind the delay in responding to PFAS, including "willful ignorance" of responsible parties. He said he's not in this fight for personal gain, just answers and solutions.
"When I signed up to go to war, I forfeited my life," Minor said. "No matter how it happened, even if it was on a Cold War battlefield -- I knew the score. The problem is that my children, my wife, my friends, didn't sign up for this."
The National Academy of Sciences just released a reportcalling for expanded blood testing for PFAS. The report also gives new guidelines to clinicians on how to advise patients with elevated levels.
As we move forward in studying and addressing PFAS, Minor says we shouldn't forget the veterans, family members, and communities who have already experienced the fallout of PFAS exposure.
Minor references the military's commitment to leave no one behind on the battlefield. He says he hopes the same is true for service members harmed by PFAS.
This story is part three of WCMU's series on Demystifying PFAS, where we explore what a future with forever chemicals may look like.