The Children's Bookshelf: The Story of Lin Manuel Miranda - March 21, 2022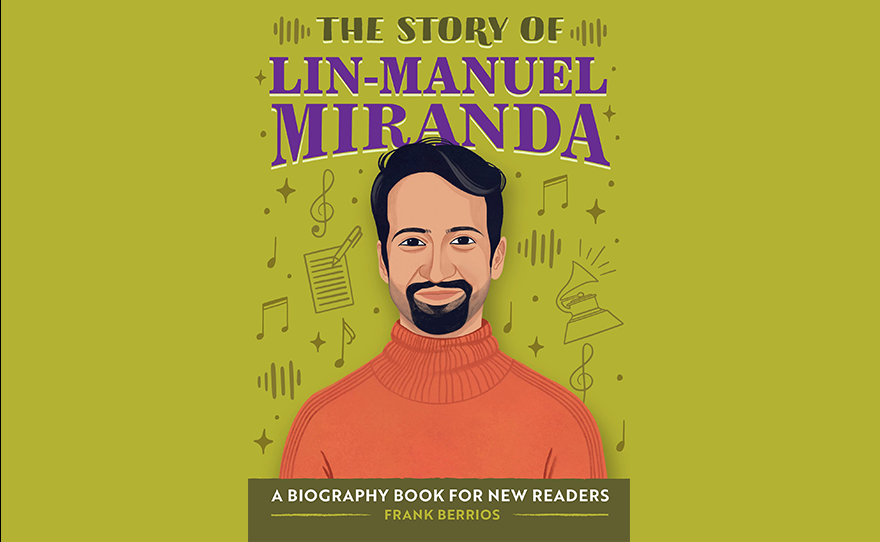 The Story of Lin- Manuel Miranda written by Frank Berrios and illustrated by Marta Dorado is the latest addition to the series A Story Of: A Biography Book For New Readers. It is well written, beautifully armed with fascinating details, cleverly illustrated and a fully inclusive story about this extremely creative individual and humanitarian, namely, Lin-Manuel Miranda.
Lin- Manuel was born in New York City in 1980. His parents came to America from Puerto Rico as graduate students. Lin-Manuel lived in a Latino neighborhood and went to school at Hunter College Elementary and High School where he saw plays and acted in plays. In the sixth grade he got a roll in Bye Bye Birdie after which he decided he wanted to be an actor.
One of the most unusual things about Lin-Manuel was and is his ability to think out of the box. After reading a biography of Alexander Hamilton in 2008 he pictured an entire musical based on this Founding Father that would be acted and sung by Latino, Black and Asian artists. His courage, talent, and belief in both his creativity and Hip Hop allowed him to create Hamilton for which he won the Pulitzer Prize and eleven Tony Awards!
There is a delightful quiz about the life of Lin- Manuel in the back material that readers will enjoy plus a perfect glossary of words and terms used in this wonderful telling of a most creative life.
The Story of Lin-Manuel Miranda written by Frank Berrios and illustrated by Marta Dorado is full of examples that will give readers 6-9 years of age the courage to engage their own creativity. (Rockridge Press, 2022).
The Children's Bookshelf is a production of WCMU. Links to the podcast and Activity Questions can be found at Children's Bookshelf dot org.
Activity Questions for The Story Of Lin-Manuel Miranda
For older readers: Look at the Glossary in the back materials. What is the difference between the word collaborator and the word consultant? What is the difference between the word activist and the word humanitarian? Do any of these four words describe you? If so, construct a short paragraph about your experience as a collaborator or consultant or activist or humanitarian. Give it some thought before writing. For example, if you select the word activist, you could write about how you feel about or what you do in such areas as recycling. If you select the word collaborator you could write about a project that you worked on with others in your class.
For younger readers: Have you seen the film Mary Poppins Returns? Lin-Manuel Miranda plays the part of Jack the Lamplighter. Ask your parents or librarian to help you find a way to see this film online and enjoy Lin-Manuel's singing and dancing in this classic story.
Do you play the piano at home, take dancing lessons, sing in a choir or play a musical instrument at school? If so, draw a picture of you playing or singing. Be sure to show how dancing or playing or singing makes you feel!