Paradise on Fire: October 25, 2021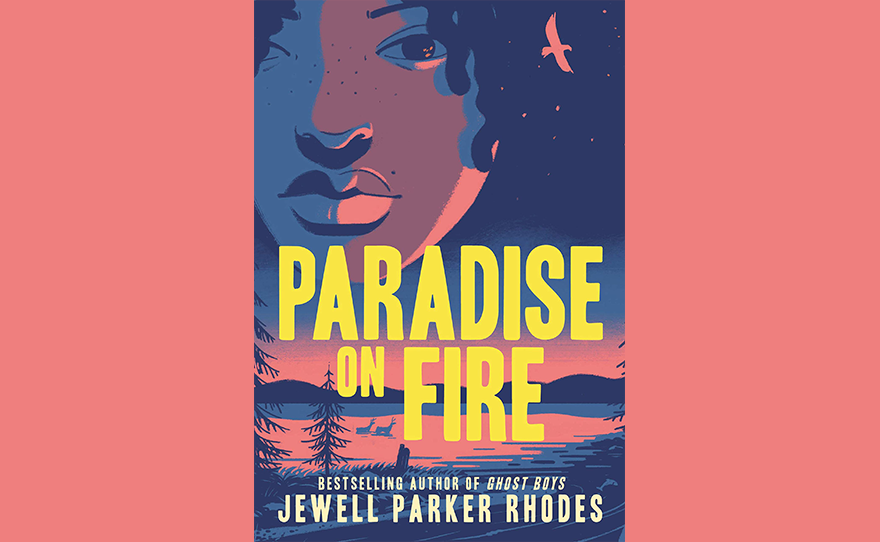 Paradise On Fire skillfully written by Jewell Parker Rhodes with illustrations by Serena Malyon is a story about six Black teenagers from various cities who are selected to spend the summer at a wilderness camp in the Paradise region of California. The story is told by Addy, a girl who lost her family in a tragic fire when she was a child. She was raised by her grandmother. Grandma Bibi is an inspiration to her and encourages her to always journey forth.
When we first meet Addy she is on an airplane headed toward California. However, she's uneasy and begins to think about how she would escape if the plane landed in distress. We hear and see her designing a plan and drawing a maze that would lead her to the exit. She loves thinking her way out of a maze and mapping.
The students bond well with each other and the camp personnel. They learn the difference between taking a walk and taking a hike and how to climb rocks. Addy learns more about mapping and they all learn how to put out a campfire after finding a smoking pit left by careless campers.
The author's telling of the three-day overnight trip to Eagle's Ridge is breathtaking. Things change from delight to horror when Addy wakes up during the night to the smell of smoke! They all see the mountainside literally on fire. Trees explode when the sparks touch their dry bark. The merciless fire, then, splits them into two groups. Addy uses her mapping skills to lead her group down the exploding mountain and across a body of water. They're exhausted but not yet safe. "Fire's alive, a thickening, ravenous monster."
Paradise On Fire written by Jewel Parker Rhodes with illustrations by Serena Malyon is an exciting and well-written book for readers 8-12 years of age about courage, friendship, loss (as everyone does not make it through), and the perils of climate change (Little Brown and Company, 2021).
The Children's Bookshelf is a production of WCMU. Links to the podcast and the Activity Questions can be found at Children's Bookshelf dot org.
Activity Questions for Paradise on Fire.
What is the difference between a map and a maze? Reread pages 17 and 18 to help you understand the difference. How does mapping influence this story? Have you ever been in a real live maze? Have you ever done any mapping? Try to map your neighborhood----have fun!
As far as Addy is concerned how are Grandma Bibi and Leo alike? What role do they each play in Addy's life? Do you have people in your life that have played a significant role? Write them each a thank-you card.
Study the two-page spread toward the end of the book that positions all the places where this story took place. Does it pull the geography of the story together for you? Make a list of the most important places in your life in a journal or notebook. Then, write a short descriptive paragraph that explains the significance of each location.
On the last page of this story Addy says, "Hard doesn't mean impossible." What does this statement mean to you? How does it relate to fighting climate change? Have you ever worked very hard to accomplish something even though others were not particularly supportive? Draw a picture of this challenge.